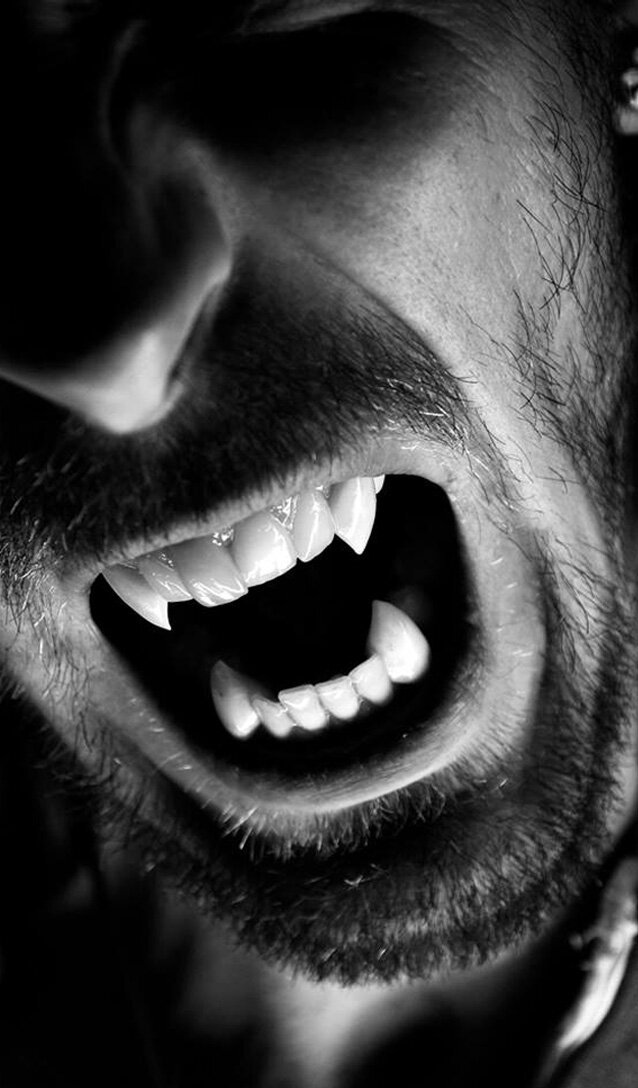 Thank you for your interest in my custom-made Old School Sabretooth custom-made Vampire Fangs. Please note "New School" Sabretooth 3D Fangs are done via a mold and not available in person. I personally carve each pair for you personally in a private consultation.  This lasts approximately 30-45 minutes per basic pair (Classics & Liliths) and longer for deluxe styles such as Lost Boys, Interview, Beast, Sabres, Brooklyn, etc.
Here are some of the points which are commonly asked about my Fangs...  
Fangs' color match your teeth.

They will last 2-3 years with good care, longer if you are careful.

Not wise to sleep or eat with them.

OK for smoking, drinking coffee, tea, alcohol, absinthe, and kissing.

Made from high-quality dental acrylics.

25 years of fang-making experience.

Great for singing.

Feel like your real teeth when being worn.
BASIC RATES FOR OLD SCHOOL HAND MADE FANGS:
Classic Canines (1 pair 2 teeth) - $200
Lilith Laterals (1 pair 2 teeth) - $200
Lost Boys (2 pairs 4 teeth, long laterals, subtle canines) - $400
Brooklyn (2 pairs 4 teeth, long canines, subtle laterals) - $400
Sabres (2 pairs 4 teeth, canines and laterals equal length) - $400
Nosferatu (1 pair 2 teeth) - $265, €265
I do not personally make permanent fangs but I can refer you to the dentist who did Dani Divine's permanent fangs called ETERNAL FANGS.
Lavita Dental Spa: Hayk Arakelyan, DDS
Dentist in Los Angeles, California
(323) 648-0001
Say Father Sebastiaan sent you
$1200 per pair
Yes, they are installed by Dr. Hayk Arakelyan, DDS with offices at 6333 Wilshire Blvd, Los Angeles, CA 90048.

Eternal Fangs are caps permanently glued onto your teeth by a licensed dentist. Fangs usually made by fangsmiths such as Father Sebastiaan are acrylic caps that click on over your teeth. A fang smith cannot change your mouth structure or do any permanent work as they are not a licensed dentist.

Yes they are absolutely permanent and will last a lifetime guaranteed by our dentist or you get free replacements.

Yes, our dental office is located in Beverly Hills and requires you to come to LA and have the teeth done in person.

The caps are zirconia 3D printed caps made in a professional dental laboratory.

Usually two days. One Day for prep and the second for installation.

No, they are laminates which cover slightly modified teeth in most cases.

You must be at least legal age of majority at 18 years of age.

The price for the basic pair of classic Eternal Fangs is $1200.
Option 1 - In Store

You can visit one of our retail stores to receive your impression. Simply find one near you and book an appointment.

Option 2 - Impression Kit

Making a great impression is easy and will determine the quality and fitting of your fangs. You can do this from home.

Option 3 - Dental Impression

If you would feel more comfortable going to your dentist to receive your impression, then by all means.
Get Your Custom Fangs Today
What it's like to have your very own Fangs
Getting your own fangs isn't to be taken lightly. It's a transformation, a new beginning, a new chapter in your journey. See what some of our clients say about their personal experience.
Are Your Ready To Be Reborn?
Order your custom fangs and be reborn.