Sabretooth Fangs are the pioneers of Fangsmithing, founded in 1995 by Father Sebastiaan.
We create dental-quality custom fangs for our clients. Get yours today!
Old School (SabreTooth Fangs)

Hand-made by Father Sebastiaan in person by appointment.

New School (Sabretooth 3D Fangs)

3d printed from a scan of Father Sebastiaan's original designs and this includes all the mail orders.
Founded on August 7th 1995 in New York City by Master Fangsmith "Father Sebastiaan" to create the best quality dental SFX for his personal fang clients. Since this time Sabretooth has grown to serve the SFX, cosplay, Halloween and those who love the Vampyre / vampire aesthetic. Our founder and master fangsmith has been featured in Rolling Stone, New York Times and Ghost Adventures.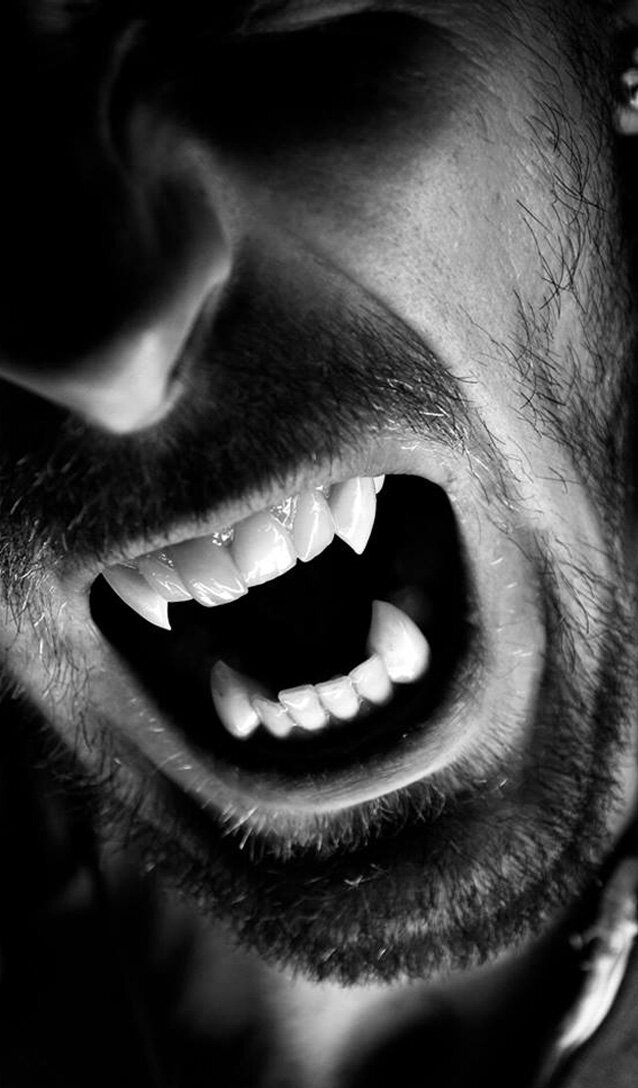 "I have been waiting on Father Sebastiaan to come back to New Orleans and hoped he would have time for appointments. Despite how busy he is, he made time for it and I couldn't be happier! Excellent quality! Who better to make your fangs than Father Sebastiaan? Exactly! So book your appointment now!!."
— Jennifer M.
"Had a pair of Liliths made by Sebastian 3 yrs ago and went in for my second pair after accidentally breaking one of my liliths last weekend (Never try to put your fangs in while running for the train). Ended up w/a lovely classic pair, which I am very happy with. Thank you, again Sebastian. Hope you are enjoying New Orleans and will likely see you in March at the ball. Btw...just saw u on history channels doc. on vampires/vampire counterculture. Very nice! Jocelyn."
— Jocelyn M.
"I met father Sebastiaan a very long time ago @ Andromeda. He has always taken pride in his work but very humble about it to . The fine quality I'v noticed about sebastian is that he loves to see the expression on his fang clients face and thats priceless ! yours in brotherhood !."
— Duke M.
Frequently Asked Questions
We only need the antirior (front teeth)

Try using a denture cream like Polygrip.

We recommend Dr. Hayk in LA

Old School (Sabretooths by Father Sebastiaan) on the spot.

New School (Sabretooth 3D) 30 days once we get the mold.

The original handmade fangs by Father Sebastiaan.

3Dfangs are made in a dental lab by licensed dental technicians.

High quality dental grade acrylics.

18+, 16 with parental consent.
Ready to be reborn?
Order your custom fangs and be reborn.
This site www.sabretooth.com is the ONLY place where Sabretooth Fangs is represented on the Wild Wild Web (WWW). . If it is not linked from this domain and website it is not official. We are a private organization and wish to keep our internal affairs confidential through our private forum. Our public presence is presented through our Endless Night events and projects found at www.endlessnight.com, EN Instagram and EN Facebook Page. Sabretooth membership is only valid through getting a pair of custom fangs from Father Sebastiaan. Sabretooth Clan (the official fang club & family) is a neutral, sovereign and independent clan within the Vampire Community, please read our Sabretooth Clan Statement of Sovereignty.